I've had this hot pink fashion boa for a while. In fact, I forgot about it. I think my human brought it home for me for New Year's Eve and then never pulled it out for me. Anyhow, I am going to try to wear it today. I hear that no kitty is truly glam without knowing how to rock a fashion boa.
To be honest, I am not even sure where to start!
Well, I guess this isn't it. I feel like I'm wearing a straight jacket!
I'm afraid I'm not rocking this boa at all.
Oh wait, I think I've got it! To rock a boa, it's all about the attitude! You have to feel glam before you even put it on. When you feel glam and fun, it just falls into place. Let me try again.
You have to own the boa. Because if you don't, the boa owns you instead, kind of like it did in my first couple of tries.
Once you know that you own the boa, you can strike a pose!
You are not supposed to look coy in a fashion boa, but I bet I can pull it off.
So how do you think I did?
* * *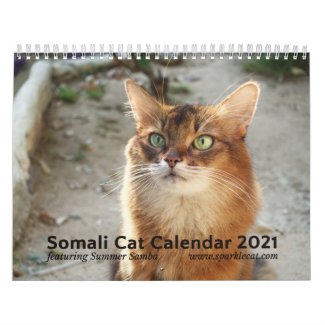 2021 Somali Cat Wall Calendar, Starring Summer
See all of Summer's merch at her
her Zazzle Designercat Shop