Like everyone else, we are still housebound. So here are some outtakes that happened during photo sessions around the house. (Surprisingly, there were none from yesterday's blog post!) The photo above didn't make it to the last round of outtakes, but it's still a good one. It looks like a scene from a murder mystery! If you can think up a caption, feel free to post it in the comments.
If you read the secret messages on my tea party post, you know that the tea cups were actually empty. Here I am, seeing for myself.
In this photo, I guess I was waving for service! What else do you do when faced with empty tea cups?
In this outtake from my high five blog post, I may have been looking for treats that I thought my human was hiding from me.
And lastly, here's a photo of me playing with a cat toy that wasn't as arty as the ones that appeared on the blog post. In fact, it's kind of the opposite of arty!
I hope my outtakes made you smile while you are housebound!
* * *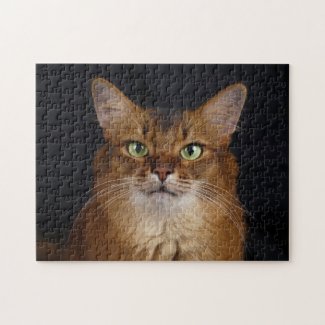 Somali Cat Photo Portrait Jigsaw Puzzle
See all of Summer's merch at her
her Zazzle Designercat Shop