Both nights I was in this hotel, I got to go for walks! We were lucky — our room was one of the few that opened up to an interior hallway instead of to an outside walkway. We just needed to go through a door and downstairs and we were at the hotel lobby.
For a hotel that wasn't one of the fancy chains, this was a nice lobby! I was sitting on this little table for yesterday's shot. The first night, someone from the cat show sat and talked with us, and a couple of people wanted to pet me. But other than that, we pretty much were just left alone.
I did see something I almost never see at home!
A TV screen that didn't have people jumping around on it! That's almost all I ever see on the TV screen at home… and my human jumps along with the TV people. My human says she doesn't sit and watch much TV because she's too busy helping me with my blog and Instagram.
Anyhow, while I was on the sofa, I thought it would be a good time to get my selfies done.
Well, this won't do — I cut off part of my left ear!
This one doesn't have the best focus, but at least both my ears are in it.
* * *
---
---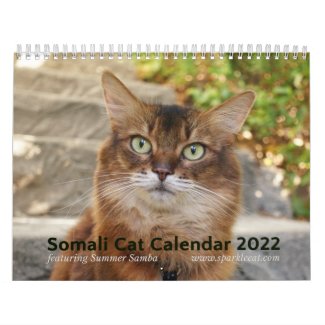 2022 Somali Cat Calendar Starring Summer Samba
See all of Summer's merch at her
her Zazzle Designercat Shop