I spent the weekend in Phoenix for a cat show! This is where I spent much of my time when my human and I were in the hotel room — the suitcase was set up right next to the desk, so that made it easy to supervise her.
Here's a wider view so you can see. Yes, I got on the desk sometimes too — especially when my human was eating dinner. For some reason she did not want to be supervised that closely.
My human brought a couple of my dresses along, in case I didn't feel like being in the judging rings this trip. It turned out we did not need them — I made it through two days and 12 rings and was fine!
The show each day had a different cat club putting it on. The first day, the club gifted all us show cats with cool catnip toys!
The space they assigned me to sit between rings was on an end row that faced the vendors. This was my view for both days. Awesome, wasn't it?
I was the only Somali cat competing. There were a few Abyssinians, but only one in my group. At one point in a final, we had cages next to each other. Most of you probably know, but just in case, Abyssinians are the foundation for my breed, and basically Somalis are very similar to Abys, only fluffier. Can you tell that the Aby boy is a different color from me? He's red, and I'm ruddy, which means I have bands of black ticking in my fur.
Other than the coat, we are alike in a lot of ways!
I saw many interesting kitties, including this girl! No, that's not Brulee you are looking at, but she is the same breed, a silver shaded Persian. I don't see this particular color all that often, so it was a treat to have her in my class.
Two days and 12 rings is a lot of work for a kitty! We have to be groomed and taken to each judging ring throughout the day, and the judge looks at each of us, one by one. Then, if we wind up in a final, we need to be groomed again and brought back to the ring a second time. So if a cat got finaled in all 12 rings, that means she would have to be brought up to judging rings 24 times.
And that's what I did! Yes, I finaled in every ring! I wasn't the only one — there were several other cats that did too. There weren't a whole lot of cats competing in Premiership (the spayed and neutered pedigreed cats), but there were enough so that a lot of cats got left out of each final. So I'm proud of my accomplishment, and also proud of the other cats who did the same. There are some young cats who are new to my class who are real up-and-comers!
I was very good at the airport, waiting for the plane to take me home. I sat on the seat next to my human and stayed there. I didn't even get up once.
This was a great weekend… but I was also glad to arrive home!
* * *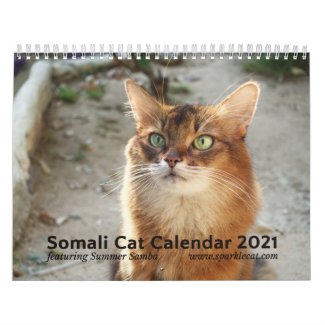 2021 Somali Cat Wall Calendar, Starring Summer
See all of Summer's merch at her
her Zazzle Designercat Shop