So my human didn't buy me any toys when we went to the pet store the other day. But she did bring home something for me on Friday, when she returned from the second day of the film festival.
This cat-sized Hollywood Princess mug came from a gift store on Hollywood Boulevard. So I thought I would take some selfies with it.
It turned out to be more complicated than I thought! First, my human had to set the mug on something so it was closer to my face. Then I had to get the angle just right and set the timer. As you can see, I needed to make some adjustments after the first try.
I tried striking a glam pose with the mug because I thought it was appropriate, but it didn't quite work.
Okay, I think this one will do.
I really do like my new gift mug!
* * *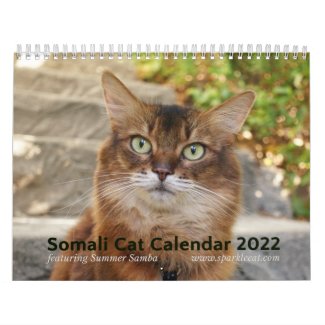 2022 Somali Cat Calendar Starring Summer Samba
See all of Summer's merch at her
her Zazzle Designercat Shop