It's been a while since I've shared outtakes with you. So I figured what better way to start off a long holiday weekend than to dig up a few? The first one is a doozy, from my Cat World Domination Day photo shoot. (By the way, congratulations to the crew at Alasandra, The Cats and Dogs, who won my giveaway!) What on earth was I doing with my mouth? I probably should have hidden this photo instead of posting it.
I don't mind this one so much. At least I almost look like I have my wits about me.
This one's from my trip to the pet store the other day. I look like I just saw a naked dog or something.
Here's a classic outtake with my human's hand in it. She is holding a cat toy I don't even like very much, in an attempt to get my attention. If you can get past her hand, you can see my look of disappointment.
Here's another outtake from my Fourth of July shoot, where it looks like my tiny hat is weighing me down. I hope you enjoyed this round of outtakes!
* * *
---
---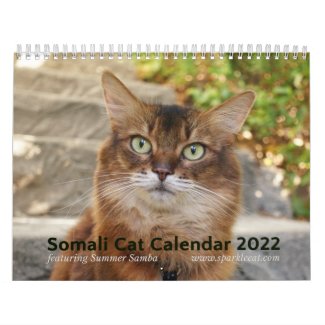 2022 Somali Cat Calendar Starring Summer Samba
See all of Summer's merch at her
her Zazzle Designercat Shop