Before we pack up the decorations, here are some outtakes from this past holiday season!
My human says this is why all the non-fragile ornaments are placed on the Christmas tree's bottom branches.
Here's what I thought of this festive holiday set-up. It did not wind up as a card.
When my human was setting up the lights for a photo shoot, I joined my stand-in — and tried to do an imitation of her!
Remember that bandana we got from one of the BarkWorld attendees? Some of you were wondering why Binga didn't model it. Well, we did try….
Apologies to the Dash Kitten crew — this raspberry was meant for my human, not for you!
This was supposed to be a selfie of me, but it got interrupted.
I have to be honest — I was not completely satisfied with my selection of New Year's Eve outfits.
I had some complaints about that little hat — I didn't really like it until I paired it with the dress.
That's it for today! I have a whole new year to create more outtakes.
* * *
---
---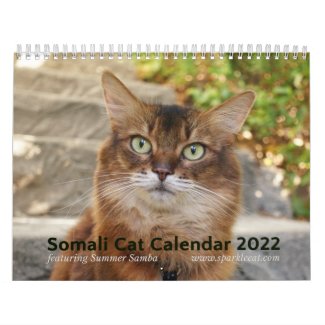 2022 Somali Cat Calendar Starring Summer Samba
See all of Summer's merch at her
her Zazzle Designercat Shop