How come every time my human starts getting ready to sell my stuff at a cat show, Binga gets in the way? This bowl is for the handmade Nip Knots that are being given away to humans who buy a book or calendar. I don't think Binga would be welcome at a cat show — she would probably steal the show cats' food, just like she stole all my dinner last night!
Here is the table my human set up the last time she worked a cat show. She did so-so. I told her she needs to step up her game and do better this time. I hope she does not get distracted by all the Christmas Cookies everyone is bringing!
In addition to my books
and my calendar, my human is also selling some of my holiday cards. Unfortunately, she won't have my new "thoughtful gift" card because she did not make them in time for this show. Heck, she barely made them in time for this season!
I've been busy too, making sure there are enough pawtographs to go around! This is our last in person sales event this year (literally in person since I am staying home). My human had better do a good job, or I may have to withhold her holiday bonus.
* * *
---
---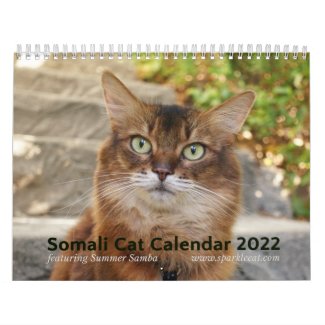 2022 Somali Cat Calendar Starring Summer Samba
See all of Summer's merch at her
her Zazzle Designercat Shop