I'm not even sure what kind of holiday hat this is supposed to be. It's not a Santa hat, and it's not elfish enough to be an elf hat. All I know is it is a holiday fail hat. For one thing, it is too big. This would fit a 20-pound Maine coon much better than it fits me!
I know it looks semi-okay here, but just look at all the effort that went into making it work.
At least one ear kept disappearing into the vast inside of the hat.
Or it wouldn't stay on my head right and one (or more) ears would stick out.
Then it wouldn't stay on my head at all. It was a lot of work to try to make this hat look decent!
Don't worry, I got lots of treats to deal with this silly holiday hat!
* * *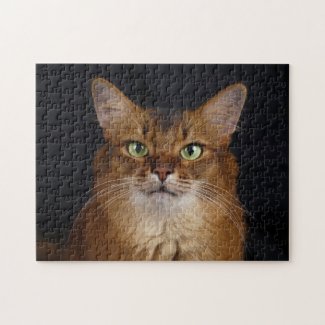 Somali Cat Photo Portrait Jigsaw Puzzle
See all of Summer's merch at her
her Zazzle Designercat Shop