It has been mayhem here for the past couple of weeks, and it is only just now that I am getting to tell you about it. It's really annoying.
This used to be my view of the outside from the bay window in my office.
Now look at it! It's awful.
There was a long retaining wall running along the north side of our property, and the guy who built it long before we moved in apparently didn't not do a very good job because it has been leaning precariously for years. Which is how long it took my human to figure out how to pay to have it replaced.
They started tearing it down nearly two weeks ago.
This is how it looks at the moment. My office is a ways above this, and they only got around to tearing the wall down up there last week. Plus they were using jackhammers. The noise chased my human and her laptop out of the house the day they were working up there. Plus they came back on Saturday morning with their jackhammers for a half day work.
And the mess! This is what it normally looks like outside the back double doors.
Now it's nothing but a big mess. Bird TV has been preempted for a while. My human is just lucky the dog is deaf and we cats are so cool. All the commotion has not bothered us that much! We still hang out in the living room, trying to catch the sun puddles that haven't been cut off by the tall boards. But I really can't wait until it's over and things get back to normal!
* * *
---
---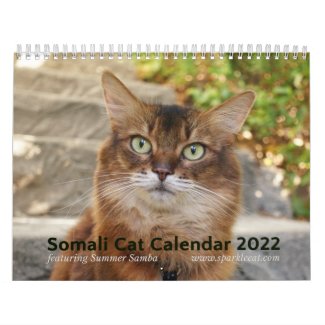 2022 Somali Cat Calendar Starring Summer Samba
See all of Summer's merch at her
her Zazzle Designercat Shop