We had a very quick travel day to Las Vegas. The flight is less than an hour — shorter than the time we waited to board the plane.
Since we took a lunchtime flight, my human got a pizza while we were waiting. I didn't get to have any.
Once we were on the plane, everything went pretty quickly! My human's luggage (really my luggage, since 80% of the things in the suitcase were mine) was coming down the ramp by the time we found the carousel at baggage claim, and the Lyft driver showed up only a minute after my human requested a ride. Before I knew it, I was in the hotel testing out the bed!
I also checked out the view from the hotel room. We are on the top floor. Not that it's such a big deal, since the hotel is only four floors high.
I'm looking forward to the show!
* * *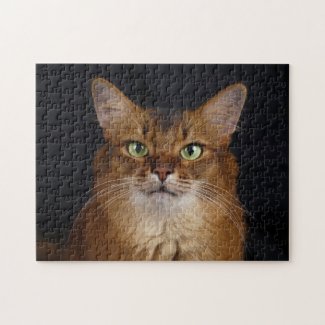 Somali Cat Photo Portrait Jigsaw Puzzle
See all of Summer's merch at her
her Zazzle Designercat Shop