A professional cat model needs to be ready for any photo opportunity. For example, my human noticed the late afternoon sun coming into the dining room, and wondered what it would look like if she closed the lace curtains.
The lacy shadows the curtains created were pretty nice! So my human decided to do an impromptu photo session with me. But this isn't the sort of photo session just any kitty can do. You need to know how to hit your mark, and stay there.
I had to land on the patches of light just right, or I'd wind up in the shadows like you see above.
And even if I was sitting in the lighted patches, I needed to be sitting there just right, or it would create unflattering shadows. Like here, where my ears disappeared into the shadows. So my human had to make sure I hit my mark. And then she told me to stay — and I did!
I will confess, sometimes I got a little excited (because… treats!) and moved when I shouldn't have. But when I acted like a pro and stayed, we got some pretty nice shots.
See? Being a professional cat model is a skill! I'm proud of my craft.
Other posts you'll enjoy:
* * *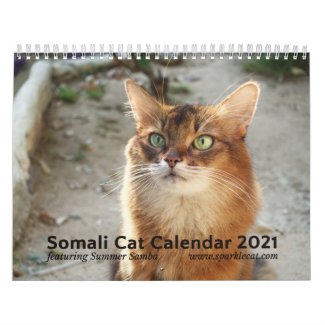 2021 Somali Cat Wall Calendar, Starring Summer
See all of Summer's merch at her
her Zazzle Designercat Shop