Recently (like, last night recently), my human was working on a story about teaching cats simple tricks. So she needed a photo of me giving a High Five. That's totally an easy trick for me. I can High Five all day… and it's a pretty good thing I can because that's almost how long it took my human to get a photo of me doing it. Following are some of the biggest High Five photo fails from the session.
The hard part was that she had to do the High Five with me and take the photo. She couldn't put the camera on a tripod or use a timer because she needed to get the shot at just the right moment. The result was a lot of bad moments and bad framing.
Plus I'm used to playing to the camera, not focusing on something that's not the camera lens. So I kept looking at the camera instead of the hand.
Honestly, sometimes I don't even look at the hand when I'm doing High Fives for real in public. But at least I don't make goofy faces like I did here.
And of course, when I finally did nail the High Five, I had to look at the camera to make sure we got it!
Don't worry, she eventually did get a decent photo of me doing a High Five.
* * *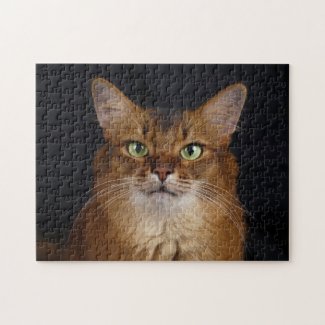 Somali Cat Photo Portrait Jigsaw Puzzle
See all of Summer's merch at her
her Zazzle Designercat Shop