I got to visit one of my favorite neighborhood pet stores this week! I was so excited to go — when I saw my human with my harness, I sat and waited for her to put it on me. Of course, I didn't know where we were going, so when we stopped in front of Rock Dog and Cat, it was a happy surprise.
I knew my human relied on me to help her do the shopping. I mean, how can she know what to get? She's not a cat!
I told her we needed more catnip toys, but she did not believe me! How crazy is that? You can never have too many catnip toys.
At least she agreed that we could get some cat treats, along with the cat food she bought and some other things.
Of course, I needed to supervise checkout, to make sure everything was added up properly. Also I looked on the counter for any good impulse buys.
And I made one last try at getting more catnip toys. It was still a no-go.
Even without the toys, it was still fun to go shopping!
* * *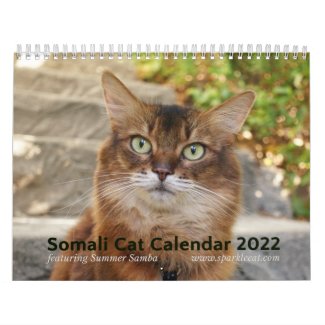 2022 Somali Cat Calendar Starring Summer Samba
See all of Summer's merch at her
her Zazzle Designercat Shop