It was bed sheet changing day, and I hear lots of cats like to help their humans do this. Since I'm not a regular kitty, I'm usually upstairs sleeping through it. But this time, I thought I would give it a try and see how I like it.
I'd better warm up first. This looks like it is going to be a big task!
From what I gather, the first thing a kitty is supposed to do is lie down and get in the way. I hope I am doing this right!
What's this? How did she get the pillowcase on so quickly? She's not supposed to be able to do that!
She's already putting on the fitted sheet. I'd better start supervising harder so she gets less done!
I know — I can lie down and look cute. That's a good tactic.
I will be honest. I got bored and left, and when I came back, everything was finished.
Even though I didn't do a very good job, I still get treats, right?
* * *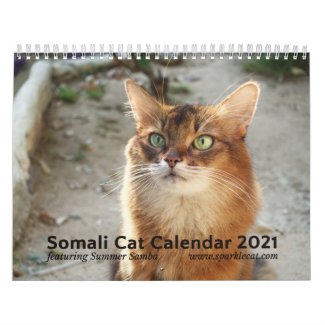 2021 Somali Cat Wall Calendar, Starring Summer
See all of Summer's merch at her
her Zazzle Designercat Shop