I am about to announce what will probably be my favorite giveaway of the whole year! Remember my human's trip to the Purina campus in St. Louis? They worked 110% to let her and the other humans there know how much they appreciate pet bloggers! She got lots of cool stuff but one of the most awesome is something I have not told you about yet! It is very small, but very valuable!
It is a year's worth of Purina pet food and/or Tidy Cat litter in the form of 15 coupons! Each coupon has a value of up to $48! Purina said the bloggers could do whatever they wanted with them — keep them or give them away. So I decided to give mine away to a shelter — of your choosing! (Of course, they will no doubt use these coupons up in way less than a year!)
To enter the giveaway, all you have to do is say in the comments below which shelter or rescue you would like to have the coupons. The only qualification is it has to be a 501(c)3 shelter in the United States, and they have to accept coupons as gifts or donations (and I think the vast majority of them do!). Then say you commented in the Rafflecopter widget below. (If you are viewing this blog post on another website or by email and can't see the Rafflecopter widget, click here to go to the original blog post to comment and enter!) You can get more chances for your shelter by liking my Facebook page, following me on Twitter and Tweeting about the giveaway! You have until Monday night, October 29, at midnight Eastern Time to enter, and the winner will be announced on Tuesday, October 30!
The winning shelter will win 14 coupons — up to a $672 value!
You may have noticed there is one coupon left over! That is because I am saving it for one lucky newsletter subscriber! My monthly newsletter goes out this morning (the 26th), and it is highlights of the past month (in case you missed anything good), a short essay from me… and sometimes I have giveaways! Usually it is not this big a value, but I wanted to give you a head's up 'cause this month is so special. You can subscribe where it says "Get Sparkle's Monthly Newsletter" above on the right, under the BlogHer ad. If you miss this month's giveaway, I will be having a pretty nice one next month too!
* * *
---
---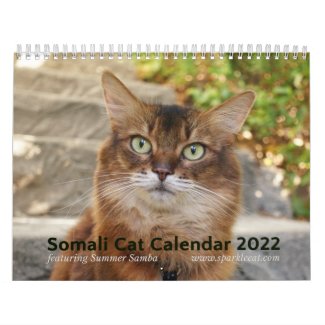 2022 Somali Cat Calendar Starring Summer Samba
See all of Summer's merch at her
her Zazzle Designercat Shop