I'm going to be a presenter along with my human at the Cat Writers virtual awards show this weekend! The date is Saturday, August 8, from 7 to 10 PM Eastern Time. According to the schedule, we're going to be on around 7:27 and again around 8:25. You can find out more at the Cat Writers website. They are also holding a fundraiser to benefit Tabby's Place, and you can find out about that here.
Anyhow, I do have one dilemma — I have to pick out a dress and I can't decide! I've narrowed it down to four. I am going to model each one for you, and you get to vote for your favorite. You will see me wearing the winner on Saturday night! So let's get started.
First up is this showy green dress. Do you think it's too flashy? I don't want to upstage the other presenters. Okay, maybe I do.
This black velvet and leopard print dress is fancy with just a touch of crystal bling. Plus the organization's current president is a big fan of leopard print.
This one is very short, but I love the colors! The silky olive green material has dragonflies on it. And I like the jewels and ruffles.
Lastly, there's this simple little black dress. Instead of getting fancy and over the top, this dress is understated fashion.
Now it's your turn to pick! Which dress do you want me to wear for the Cat Writers awards? Vote below and I'll wear the winner on Saturday!
Which dress should Summer wear as a CWA awards presenter?
The black velvet and leopard print dress (58%, 84 Votes)
The sparkly, fluffy green dress (22%, 32 Votes)
The short olive green dress with the jewels and ruffles (12%, 17 Votes)
The simple little black dress (9%, 13 Votes)
Total Voters: 146
Loading ...
* * *
---
---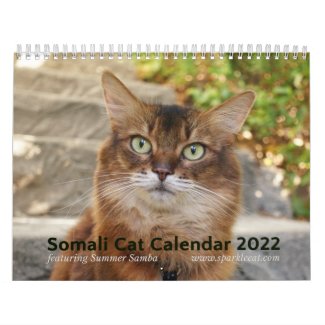 2022 Somali Cat Calendar Starring Summer Samba
See all of Summer's merch at her
her Zazzle Designercat Shop