It was a fairly quiet day at the children's hospital, and that was a good thing. The night before, my human fell on her butt while loading stuff into her trunk, and she was still sore in the morning! So it was up to me to carry the whole therapy cat visit.
I mean, she wasn't totally useless. She still took photos of me with kids, and helped me show off my high fives and paw shakes. But things like squatting to pick me or the tote bag up were a bit difficult. I definitely had to carry more weight (figuratively) this time.
And she did answer the usual questions about me. Like, what kind of cat I am and such. The father of the first boy we saw in an exam room wanted to know why I arched my back when he petted me. My human explained that that, along with my purring and making happy paws, meant I was enjoying myself. (I happened to be doing all three.) It's funny how people don't know all these cat signals. But I'm glad I'm there to demonstrate them, and my human is happy to answer them.
I did do one thing out of the ordinary today. I got to visit the outside rehab area. It's on the upper floor, like a giant balcony, so it wasn't totally open. But it was still a little strange and my human had a hard time getting me to focus on the people and not so much on exploring the area.
The hour actually flew by pretty quickly. And I'm sure by the time we have our next therapy cat visit, my human will have completely forgotten about her sore butt.
Other posts you'll enjoy:
* * *
---
---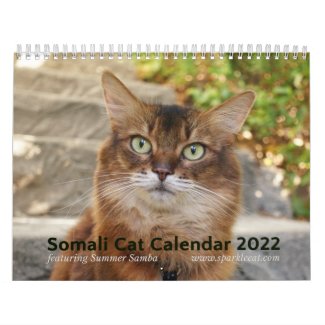 2022 Somali Cat Calendar Starring Summer Samba
See all of Summer's merch at her
her Zazzle Designercat Shop