Hey kitties, it's a Kindle Catmas! For the digitally inclined among you, I have lowered the price on the Kindle version of my first book to $2.99!
It makes a great last-minute gift, and if you get an Amazon gift certificate on Christmas day, you can download my book for a full two dollars less than you normally would pay. The price will go back up to the usual $4.99 shortly after December 25, so now is the time to go for it!
But there's more! If you have a Twitter account, you can also get a Kindlegraph from me! A personal autograph from me right to your Kindle! Even if you bought the digital version of either of my books months ago, you can still get one — just go to my Kindlegraph author's page.
The set up is easy. Log in with your Twitter account and follow the directions on this page. It tells you the instructions on how to get started. The most important is making sure the Kindlegraph email is added to your "Approved Personal Document E-mail List" — that is how my autograph will be able to reach your Kindle.
Once you are set up, click on my author's page and pick the book you have. Tell me how you want it autographed and I will do it!
Then, like magic, the autograph will appear on your Kindle. But of course, since it is me, it's also got a PAWtograph! Even better, it is free, except for maybe a very small charge for sending the data to your Kindle. So far, I don't know of any service that does this with other eBooks, but I hope someone invents that soon!
I am very excited about this! I hope everyone who got Kindle versions of my books asks for my autograph!
* * *
---
---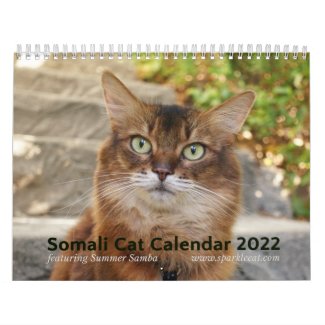 2022 Somali Cat Calendar Starring Summer Samba
See all of Summer's merch at her
her Zazzle Designercat Shop