My human decided a redo of yesterday's photo shoot was in order… but it didn't turn out any better! At first, she shot photos from too high of an angle so the perspective looks wonky.
She fixed that — and then she forgot to put my collar back on! Plus the tablecloth, which is now just the ground cover, is crooked.
Even Binga couldn't help this photo shoot! Well, it's not like she ever helps.
Apparently she wasn't needed for this to be a ruined photo shoot.
So it's back to the drawing board! Oh well, I hope you have a safe and sane Fourth!
* * *
---
---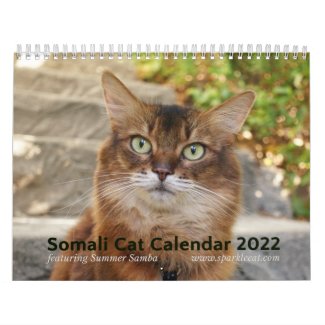 2022 Somali Cat Calendar Starring Summer Samba
See all of Summer's merch at her
her Zazzle Designercat Shop