Isn't this graphic from Sammy, Andy and Shelly's human pawsome! We are going to have a lot of fun today because I have opened up the should-be-catio for the celebration! I will be greeting everyone at the door personally.
Make yourselves at home — there is a lot of space to explore!
Help yourself to a beverage. The tuna juleps were a big hit at my Super Cat Sunday party so I am having them again. There is also Cat-Sip milk for those who want something a little less potent.
Enjoy the great view!
Or you can play in the boxes. There are several here — take your pick!
I bet you are hungry! Help yourself to some casual catio fare. I have pizza with sausage and anchovies.
And everykitty's favorite — KFC chicken!
So dig right in! I am!
And pssst! Don't tell my human, but if you want some dog kibble on the side, grab a pawful. It's delicious!
And of course, no birthday party is complete without cake! But, um, why did you have to put nine candles on it? It's not like I want my age advertised.
Besides, how do you expect me to blow all of them out?
Now for a party game — guess what I got for my birthday! I have three gifts, and two of them are owned by other blogging cats. Which cats? I will give you a hint: some kitties in Nevada own both items, and a family of blogging kitties who live on an island own one of the items! Everyone who guesses the right gifts will be entered in a drawing for a door prize! I have a bunch of small, fun toys, so I may be able to just give them to all the correct guessers! Just guess by Sunday night, 5:00 p.m. Pacific Time, and I will announce the winners on Monday's post!
Oh, and one last thing: this is a commenthon too! My human is donating a quarter for every comment to this month's donation pledge, Cat House on the Kings! After what happened the last time, with the Japan Relief commenthon, she is going to limit the amount to $100, and the comment deadline, once again, is Sunday night, June 26, 5:00 p.m. Pacific Time! If you haven't donated yet, maybe you can give something too — the Chipin Widget is to your right, up near the tuna julep photo!
* * *
---
---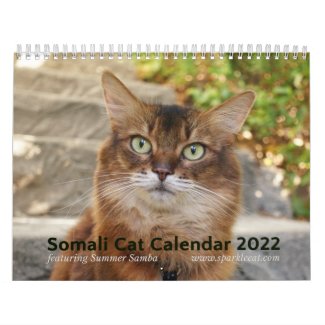 2022 Somali Cat Calendar Starring Summer Samba
See all of Summer's merch at her
her Zazzle Designercat Shop