I just want you to know that the ones you saw in yesterday's video aren't the only Halloween costume fails we have around here. There are quite a few more. I'll show some of them to you.
I bet you didn't know I already had a lobster costume, did you? The only previous record I can find of it is in this post. But there it was, in a wardrobe box, waiting for a second chance.
Which, really, it didn't deserve.
This donkey piñata has actually appeared on my blog twice! The second time with Binga. But it hasn't seen the light of day since 2017.
Here's a side view. As you can see, the head part didn't fit very well.
This pumpkin costume has the opposite problem — the head and body are both way too big. Seriously I could rent out the extra space in this costume!
Which of these Halloween costumes do you think is the biggest fail? Let me know in the comments!
* * *
---
---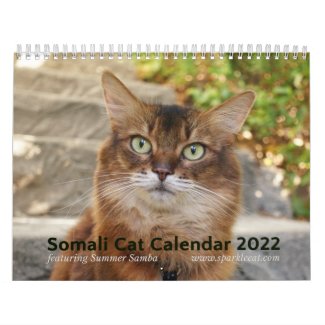 2022 Somali Cat Calendar Starring Summer Samba
See all of Summer's merch at her
her Zazzle Designercat Shop