My human was at CVS the other day, buying drugstore necessities like makeup and snacks when she saw this display of cheap Halloween jewelry.
So of course, she had to pick up a these two pairs of festive necklaces. The checkout woman told my human that they were totally perfect for her. My human didn't have the heart to tell her she was actually buying them for her cat (i.e., me!). And here I am modeling them for you today.
I do have to say, some of these, like this dainty black chain necklace, might look better on someone without so much fur. It kind of gets buried on me.
And you can barely see this tiny silver skull.
Others worked better, like this spider necklace. This one is kind of fun!
And this velvet choker with the crescent moon charm was really nice on me! My human actually may want to borrow some of these, but this one I think I'll keep for myself.
Oh, I almost forgot this cat ear scrunchie. My human thought it would be fun for me to wear it. But she had to cut the elastic to keep it from being really tight around my head. I think it's pretty silly, don't you?
Did you like my Halloween jewelry? Let me know your favorite in the comments.
Other posts you'll enjoy:
* * *
---
---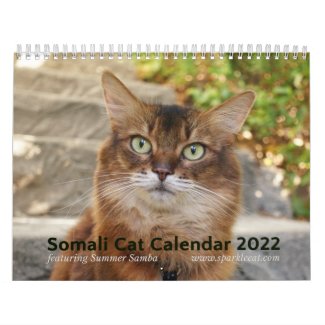 2022 Somali Cat Calendar Starring Summer Samba
See all of Summer's merch at her
her Zazzle Designercat Shop