Well, this isn't what I expected for Halloween — to be stuck wearing an old witch hat, sitting between two spider props that have already been used. What could be worse?
Oops, maybe I shouldn't have said anything… because look who showed up!
Well, I've had enough of this crappy photo shoot — and La Suegra. I'm ditching the witch hat and taking matters into my own paws.
I'm gonna wear this spider costume, look her right in the eye (or empty eye space) and say boo!
Hey, it worked! I will have to remember that for next year… just in case.
* * *
Check out my Valentine's Day Collection on Zazzle!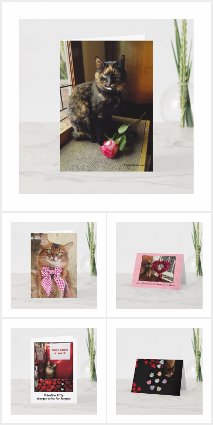 See all of Summer's merch at her
her Zazzle Designercat Shop