I visited the children's hospital for Halloween, so of course I had to dress up! And since I was at a medical facility, I decided to wear my nurse's outfit again. It's really one of the most comfortable outfits I own, including the hat (which is rare!). So it all made for a happy therapy cat visit for me, and for the patients.
As soon as I get there, I always spend time in the lobby area. The first little girl who saw me gasped, and I wasn't sure if she was happy or upset. It turned out she was delighted by me! She and her brother petted me for a long time. The little girl chattered away in Spanish, asking my human a bunch of questions that she couldn't understand. It really embarrassed my human to not be able to communicate with such an articulate youngster. It's a good thing the focus was on me. Another older girl came over and petted me lots too. Her mother was on the phone with somebody — apparently their doctor was running late, but the little girl's leg was doing really well.
This hospital treats a lot of children that have something wrong with their limbs. Sometimes they are missing, or they have artificial limbs. And sometimes, like with one wheelchair-bound little girl, they are bent in ways that make them difficult to use. Having a twisted arm did not stop this girl from petting me, though! She really enjoyed touching my fur and visiting with me.
Next we visited the exam rooms. One room had an older boy with his mom. I had a really nice time with him. In fact, he was my favorite patient. You know how you meet somebody and you just get a good feeling from them? That was this boy. I also had a sweet visit with an older girl. There didn't seem to be anything wrong with her, but when we saw her walking down the hall later, she had a cane. My human and I poked our heads in one room that had a boy with one leg and his mother. At first the mother said they weren't interested. But the boy said he wanted to see me, so we came in. And both the boy and mom loved me! That happens sometimes — the child overrules the parent and it turns into a fun visit.
Of course, the staff was excited to see me too, especially since I was in my nurse's outfit. The funny thing is, a lot of the staff was wearing costumes! So I posed for photos for some of them and purred lots. I think holiday type visits are more fun than regular ones.
* * *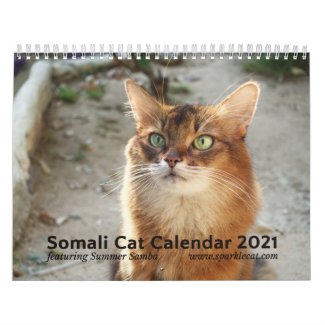 2021 Somali Cat Wall Calendar, Starring Summer
See all of Summer's merch at her
her Zazzle Designercat Shop