The weather has been especially nice outside the past few days. So I got to go out, and I didn't even need to put on anything warm.
I had fun going out back and checking everything out.
As you can see, it is still brown season here. And it may last a little longer than usual. It's been pretty dry, and it's even going to be in the 80s later this week.
We are getting some of our green back, as you can see to my right. I'm just hoping the warmer weather doesn't dry it out again.
And there was one last thing I needed to do before going back inside. I bet you can guess what it was!
Check up on my catnip garden! It's dying down a little bit… but it's still really potent!
Other posts you'll enjoy:
* * *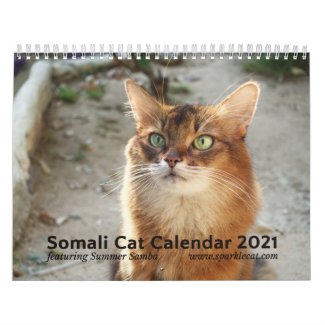 2021 Somali Cat Wall Calendar, Starring Summer
See all of Summer's merch at her
her Zazzle Designercat Shop