Here I am, back at the laptop after it (and my human) went missing for nearly four days! They were up in San Francisco for a publishing conference, where my human talked to people about the Cat Rescue book. She came home with all sorts of ideas and business cards — and she met someone very special! I will show you a photo — can you guess who it is? I bet you can't:
If you said Spitty, you would be 100% wrong! Although my human did have brunch with Spitty's human and Savannah's human on Sunday. This kitty isn't a blogger, but you may remember me writing about her a couple months back. This was the kitty that my human helped find a home with a friend of hers! Her name is Cassius Clay, or Cassie for short. There is an interesting story behind her name: when my human's friend was very young, her mother (a very awesome, 1960s kind of lady) had a cat named Cassius Clay (Muhammed Ali's name before he changed it). Cassius was a very friendly cat — and somebody stole him! My human's friend's mother died in the 1990s, and naming this kitty after the cat that was stolen was a way to honor her memory.
My human said Cassie is a very nice kitty! She came right up and wanted attention and loved getting petted and hanging out. My human's friend got lucky adopting such a pretty, outgoing kitty!
Not only is Cassie a nice kitty, she and her human gave us some gifts! Let's see what they are.
It's some catnip, a toy and a couple of cards. Oh yeah, and some lipgloss for my human.
My human was so glad to help out Cassie — and this is the first time she has gotten to meet a cat she has helped through social media!
* * *
---
---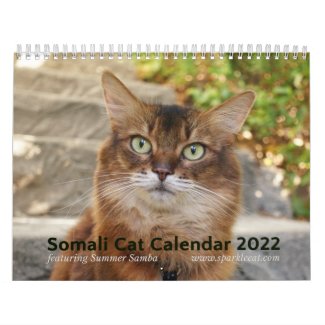 2022 Somali Cat Calendar Starring Summer Samba
See all of Summer's merch at her
her Zazzle Designercat Shop