This was a different experience for me during my therapy cat visit yesterday! When we got to my usual hospital, my human said that we were going to meet someone special… and she was!
She turned out to be the other therapy cat from our organization! Josie was accepted into the program in January. I thought the chances of us ever being on a visit together were slim, since there are a few dozen dogs in the program and only two of us. But we both signed up for yesterday's visit. So it was an all-cat therapy pet day.
Josie is still getting used to being a therapy cat. She is a lot different from me. She's a rescue cat, and she is a few years older than I am. (Her human doesn't know how old she is for sure.) She's naturally very talkative, and while she loves being petted, she is not treat motivated like I am. So she doesn't do any tricks, and she is still learning to walk on a leash. It was easy for me because I had treat incentives. Josie needs something different to encourage her to walk on a leash. But she is fine, just going from room to room in her carrier. The patients and hospital employees enjoyed seeing her lots.
My human worried that two cats would not be the optimum experience for the patients, especially those who preferred dogs. But it actually turned out for the best. The first patient I saw did ask if there were dogs, and my human had to tell her no. But then she wanted to see me anyway because she was scared of cats and she wanted to be able to get over it. So my human put me on the bed with the patient, and she petted me with her bad hand (the one that needed to be worked on — she counted petting me as therapy). And I purred lots for her and gave her the best experience I could. I was very happy to be of service to her, and to the other people I saw yesterday.
* * *
---
---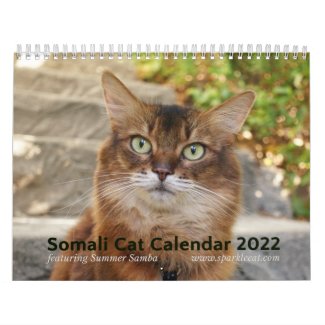 2022 Somali Cat Calendar Starring Summer Samba
See all of Summer's merch at her
her Zazzle Designercat Shop