After I picked these outtakes, I realized they all had something in common: either I looked grouchy, or I had a reason to be grouchy! I mean, look at the above photo. Wouldn't you be grouchy if you had sunglasses hanging off your face?
Here, I'm at the Pet Expo, and my human is teasing me with the churro she bought at one of the stands outside. I say "teasing" because she didn't let me have even one bite! She says churros are not good for kitties. Like they are any good for humans, either.
This is from the third day of the Pet Expo. As you can see, I was so exhausted I didn't bother taking off my tie when I wanted to nap! And I didn't appreciate my human using this as a photo opportunity either.
You may be wondering why I'm looking grouchy here. After all, I'm standing on a pet store counter, and my human is offering me a treat. Well, I knew she was just trying to distract me from the Yeowww! catnip fish sitting on the counter. She didn't want me sampling the merchandise, and thought a mere treat was a trade off. It wasn't.
I guess I'm not so much grouchy in this Easter outtake as long suffering, since my human has her hand in the photo… again.
If it wasn't for my grouchy facial expression, this would have been a good photo. But I was getting tired of my human's camera getting in the way of my birdie watching.
I hope you enjoyed my outtakes today!
* * *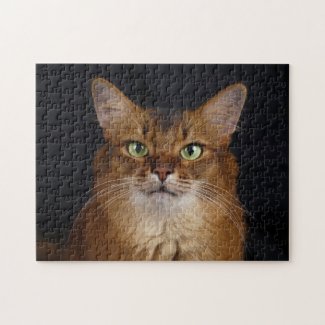 Somali Cat Photo Portrait Jigsaw Puzzle
See all of Summer's merch at her
her Zazzle Designercat Shop