When my human posted this goodie bag photo on her Facebook profile while she was at the Cat Writers Association conference, I wondered if my eyes were deceiving me!
But when she came home around noon on Sunday, it was even better than it looked in her hotel room! My human has been going to these conferences since 2008 and there is always a goodie bag of cat stuff, but I think this year's was the best ever!
In fact, there was so much stuff that my human said she wanted to donate most of it. Bummer! But I guess she does have a point. We do have lots of toys and treats already. She is keeping the cans of food for us to try and keeping some treats and that's it. Plus we each got to pick out one toy.
Binga picked the Chase 'N' Pounce Punk Rock Mouse.
I kept gravitating towards this red Sprong toy. It matches my birthday bed!
Boodie couldn't decide what she wanted. Finally my human gave her a Catnip Teaser from a young, homebased company called Purrfect Play.
The only problem is that Binga thinks they are all for her! Somebody needs to straighten her out.
* * *
---
---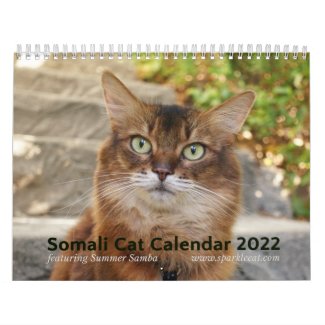 2022 Somali Cat Calendar Starring Summer Samba
See all of Summer's merch at her
her Zazzle Designercat Shop