So we've reached the end of 2020. I can't say I'll miss it. It's been a rough year for so many of my pals. Not so much for me and my human, although we did miss out on doing lots of our usual activities for most of the year.
I got to do just three cat shows before everything shut down, including the San Diego Cat Show, which you see above. (In case you are wondering, it won't return until 2022.) The biggest bummer is that I had only recently gotten my Ambassador Cat title. My Ambassador shelter is currently gathering dust.
I also only got to do a pawful of therapy cat visits before Covid shut them down. My last one was at an assisted living for seniors with dementia and Alzheimers. You have no idea how much I've worried about those patients — and the hospital staff at the other places I do visits.
I felt like this the rest of the year, although, to be honest, I was often pretty busy! I had photo sessions, outings to the pet store and around the house, and auditions for TV shows (although I didn't get any parts). I even had a couple of modeling gigs.
Before everything shut down, I got to do an instructional video for Sleepypod, and pose for ads wearing their new Martingale Cat Harness. I was (mostly) good during the video shoot.
I also had a couple of celebrations, one small and one big. I had my sixth birthday in March, and had a small cat food cake.
And I had a much bigger celebration for Cat World Domination Day! It had an 80s theme, and since my human is an 80s person, she even put together a fun and very authentic soundtrack of music.
While we were staying home, my human (who studied filmmaking in said 1980s), decided to make some videos with me. That has been fun! My favorite was the toilet paper challenge, where I had to jump over a wall of toilet paper.
My other favorite was putting together this pirate ship.
My favorite outing during the pandemic was helping my human vote! I got to offer stress relief to a poll worker and some voters, and just generally brighten everyone's afternoon. It felt like old times… that I hope will return.
The saddest part of 2020 was losing Boodie. She was 19-1/2, so it wasn't like we weren't expecting it to happen at some point. But she was doing fine, although a bit creaky and unkempt… and then she wasn't. At least she was happy almost to the end, and didn't have to suffer anything lingering.
So goodbye, 2020. I hope 2021 has some adventures (and I mean fun ones!) in store for me.
Other posts you'll enjoy:
* * *
---
---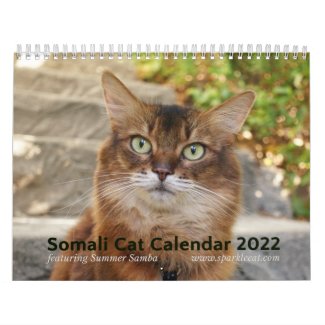 2022 Somali Cat Calendar Starring Summer Samba
See all of Summer's merch at her
her Zazzle Designercat Shop