It has been a few days since anyone has reported seeing the bear in our neighborhood, and the weather has been really nice. So my human went out back and looked everything over. There were no signs of the bear. In fact, she startled a neighbor cat who dashed off when he saw her. She took the cat as a likely sign that the bear wasn't around anywhere so she agreed to take me out for a while. She figured that I would probably sense any danger before she did anyhow, like the time with the skunk.
One of my first stops was looking in on my catnip garden. It's beginning to return since my human cut it back, but it'll be a while before it's time to pick any.
Since there wasn't much to see (or smell) in the catnip garden, I went down the wooden steps and looked around. There were birdies, but no bear.
Since my human was letting me go where ever I wanted, I chose a part of the walkway I don't normally go. It was fun to explore places I usually don't look at.
At the far end of this walkway is a chain link fence and gate. In the city where we live, everyone's property is fenced in. My human was really surprised when she started traveling a lot and found out this wasn't the case everywhere. Beyond this gate are some steps where I pose fairly often.
Of course we had to pause so I could pose for some photos.
And that always includes a few close ups. We did go to one of my usual spots I like to visit. Maybe I will share those photos with you later this week.
Other posts you'll enjoy:
* * *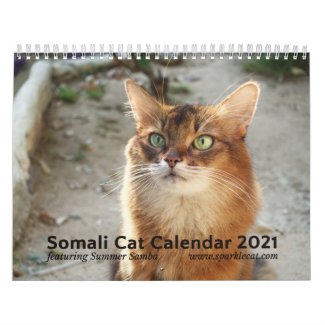 2021 Somali Cat Wall Calendar, Starring Summer
See all of Summer's merch at her
her Zazzle Designercat Shop