It's been a couple of weeks since I have been to a cat show or on a therapy cat visit, so my human wanted to get me out of the house. She needed to get some supplies at the pet store yesterday, so I went along.
My human let me wander around on the leash and visit for a while, but she really wanted to get the shopping part done. Since she brought a really sturdy bag for this trip, she set it in the cart and let me use it as a pad. I never liked being in the shopping cart before because the wire was uncomfortable, but the pad was perfect!
Of course I had to see if the cart was edible. It wasn't.
There were shelves and shelves of cat litter! It was mind-boggling. I was glad my human already knew what to buy.
I also discovered that the cart made it easy for me to jump on the higher shelves! My human let me mess around but not for too long.
I also got to check out the cat treats.
In fact, there was a whole wall of cat treats! Talk about mind-boggling.
I had lots of fun riding in the shopping cart, and I only jumped out a couple of times.
You know that when we went past the cat furniture, that was one of the times I jumped out! My human refused to buy any furniture that needed assembly.
She wouldn't buy this cat tree for me either, but at least I got to play in it for a few minutes.
Even though my human was stubborn about not buying a new cat tree, I still really enjoyed myself.
* * *
---
---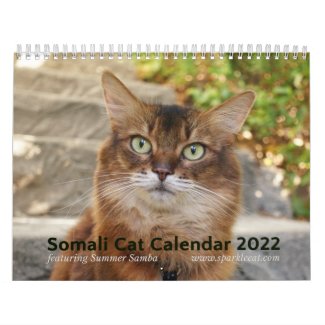 2022 Somali Cat Calendar Starring Summer Samba
See all of Summer's merch at her
her Zazzle Designercat Shop