After my last photo shoot with the globe, my human did what she usually does to solve a problem these days. No, she did not do a Google search — she had already done that before the first photo session. She asked her friends for advice on Facebook. She knows a lot of photographers, and she figured one of them might have a solution that didn't require the fancy equipment most of them have. And somebody did.
One friend suggested bouncing light off the ceiling. Well, you may have noticed that our ceiling is pitched and it's dark wood. So at first my human didn't think that would work. But then she figured out how to make her own ceiling. She threw a second white sheet over one of the beams, creating a tent with the backdrop. And it worked! There was still a tiny glare on the globe, but it is super easy to fix in Photoshop.
But she ran into another problem: I was a little bit stiff and awkward! Because she had to use a strobe, she needed to sit far back so that her camera flash would trigger it. (She couldn't tether her camera to the flash so she had to do it remotely.) And because she wasn't close enough to interact with me, it was harder for me to be spontaneous.
I did get better treats this time — fresh chicken instead of freeze dried. But it was really hard to get the timing right.
My human has a solution for that too — she is using my clicker rod to get me to touch the globe from a distance. We have been practicing without the backdrop a few times, and I'm picking it up fast. In fact, I think the training sessions are so much fun that I went and sat down next to the globe when she was busy doing something else.
So maybe the third time will be the best time, right? I'll keep you posted!
* * *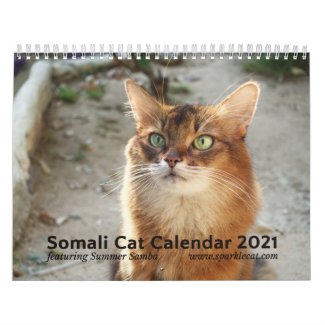 2021 Somali Cat Wall Calendar, Starring Summer
See all of Summer's merch at her
her Zazzle Designercat Shop