As most of you know, Cat World Domination Day is coming up! It's June 24, and usually my human creates a graphic about this time. This year she decided to do something different and have me pose with a globe. She spent weeks picking out what she thought would be the perfect one. And it is just the right cat size and it looks nice. It even has a light inside of it. There is just one problem: it's made out of really shiny plastic, which is extremely hard to light for photos. Especially when it is sitting next to something not shiny, and fuzzy, like me.
No matter what she did, there was some sort of glare or reflection on the globe. And the smaller she was able to make the reflection, the worse the lighting got. So you will have to excuse the terrible lighting in these photos. At least I have my poses down perfectly!
We are going to have to try this photo shoot again, with a different lighting situation. But so that it wasn't a total loss, my human had me go through what she called "globe practice." She told me to try to become "one with the globe." Do you have any idea what she meant by that? I didn't.
Then she put a piece of freeze dried chicken on Norway and I started to get the idea.
What she really wanted me to do was paw at it, like when I ring the bell. The results were mixed.
While I didn't learn this new trick all the way, I did enjoy the practice.
Hopefully, we will both get this photo right before Cat World Domination Day!
* * *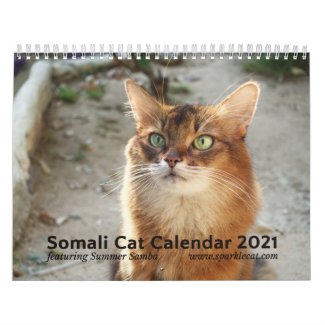 2021 Somali Cat Wall Calendar, Starring Summer
See all of Summer's merch at her
her Zazzle Designercat Shop