This shoot for my calendar went a lot better than the last one. You may recognize the pink fashion boa. Yes, it was in this year's calendar — and it is making a repeat appearance because the backdrop is different, and I'm adding something new.
That's right — I am adding my pink heart-shaped sunglasses! I am going all-out glam for this photo session.
Don't you think I look super-cool? I don't mind rocking sunglasses all that much. My human is training me to leave them on longer, since I am already okay wearing them. One thing I've noticed — the longer I wear them, the faster the photo session goes!
My human gets an idea for a photograph in her head and then tries to recreate it… the way she originally imagined the calendar photo was as a close up.
Can you see that my human photo bombed me in this photo? Fortunately she caught it before her hand wound up in every shot.
Okay, I'm done. My contract said only six photos for this blog post. If you are lucky, maybe I will post some fun outtakes tomorrow!
* * *
---
---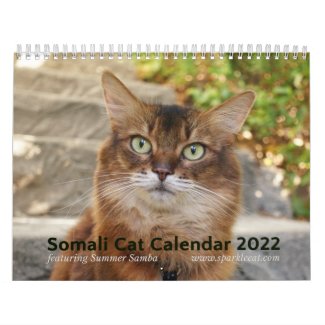 2022 Somali Cat Calendar Starring Summer Samba
See all of Summer's merch at her
her Zazzle Designercat Shop