You are probably wondering why I am wrapped up in this pretty purple scarf. It was a gift from some friends of my human's — and possibly friends of yours! The humans of Ginger Jasper came over from the U.K. to visit several cities in the Western U.S. Their first stop was Los Angeles, where we live, and they were not far from our house! My human met up with them at Union Station for a visit and to have lunch. I almost came along, but my human wasn't sure how long we would be, or if we could find an outdoor restaurant where I would be welcome. So I stayed home.
Because Union Station is so close to Olvera Street, where I attended the Blessing of the Animals, that's where they went. Olvera Street has a lot of fun Mexican type trinkets (I posed with some of them for Cinco de Mayo), and some of the oldest buildings in Los Angeles. The restaurant they ate at was in a building that was over 150 years old.
Ginger Jasper's female human generously brought gifts with her for all the friends they will be visiting on this trip. Not only did she give my human the jewel-toned scarf, she also gave her this lovely necklace!
Here is a closer photo of the necklace. The charm is a cat watching a mouse. Isn't it cool?
This necklace is also supposed to be for my human, but I think I will keep it. It matches my eyes really well! Plus the charm is my spirit animal.
Never mind my human, who says my spirit animal is a Muppet.
All these pretty things were made by Ginger Jasper's human — isn't that awesome! My human and I thank you so much for these gifts, and my human thanks you for the fun visit.
* * *
---
---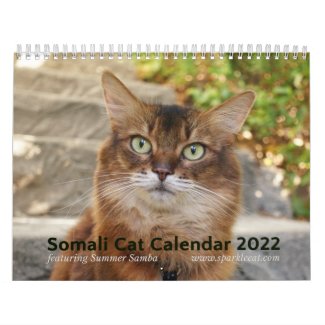 2022 Somali Cat Calendar Starring Summer Samba
See all of Summer's merch at her
her Zazzle Designercat Shop