I finally got to go back visiting at the other one of my regular hospitals! I haven't been to this one for two months because my human's illness forced us to cancel last month's. We've been trying to get back for a couple of weeks, and finally scheduled in this visit.
I had a surprise when we arrived. We were the only team scheduled, but Jake and his human were already there. You remember Jake from my Boy Scout presentation, right? His human couldn't figure out why he wasn't on the schedule… and then realized he was supposed to go to a different hospital! Jake's human was really embarrassed about that, but my human and I were glad. When we are the only team, it's hard to see everyone on all three floors we are supposed to visit. With Jake and his human, we were able to cover everyone who wanted a visit with a therapy pet.
I was worried that nobody would remember me when I started on my rounds. But lots of nurses were happy to see me, and remembered me by name! So I got a warm welcome back. And I had lots of nice visits.
One couple got to have visits with both me and Jake. The woman was the patient, and she has had some awful problems with her leg. Usually, the patients don't discuss what is going on with them, but this one and her husband wanted to talk about it. Sometimes it helps to chat with a stranger and her therapy cat, and the woman had been in the hospital for nearly two months. She probably hadn't had a chance to visit with a whole lot of people other than her husband and the nurses. We were happy to listen. The couple loved both me and Jake. They are big animal people, and the woman donates lots to nonprofits like Best Friends. Although I really liked them and would love to see them again, I hope the woman is better enough to go home before my next visit!
The saddest visit I had was on a different floor. A young woman patient and her mother loved cats and wanted to see me really badly. But I couldn't go in the room or let them touch me because there was a big red isolation sign on the door. We therapy pets can never go in those rooms. I don't know what would happen if we did — we would probably have to go home or something. We certainly couldn't risk having other patients touch me. So the young woman stood near the doorway and chatted, and her mother came out and took photos of me. But I could tell they were so sad that we couldn't do a real visit.
Sometimes you get an unexpected happy visit. My human thought this one man was asleep, but he wasn't. He asked a lot of questions about who we were and why we were there, and he was really hard to understand because he was on meds and didn't have any teeth. Finally after my human finished telling him all about our organization and our relationship with the hospital he said, "I love animals," and he wanted me to hang out on the bed with him. So I did and I enjoyed visiting with him quite a bit. We almost didn't do this visit, and we wound up making his day. My human can be a little shy sometimes when she is worried she's disturbing someone. But in this case, I'm pretty sure the man wanted to be disturbed!
I was really glad to be back at this hospital.
* * *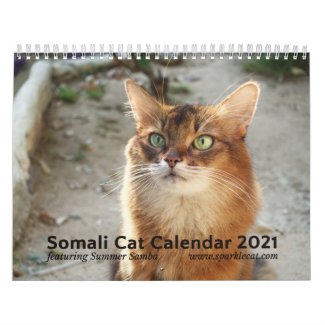 2021 Somali Cat Wall Calendar, Starring Summer
See all of Summer's merch at her
her Zazzle Designercat Shop