My human is trying to think of ways to keep me occupied while we Shelter In Place. When I don't get enough stimulation, I start going crazy, I get into things, and I may also get into a little bit of trouble. (Hard to believe, I know!) Plus we have had rain on a lot of days, and it has been unseasonably cold. The other day, even though it was only in the 50s (really cold for Los Angeles), my human bundled me up in a sweater and took me out back for a while.
Of course, she brought her camera and I was more than happy to pose for photos.
I don't think you've seen me on this brick wall. It's on a different level than the other wall I'm usually sitting on.
After a while, I started to wonder if my human took me out of the house to keep me, or herself occupied?
I mean, posing for photos is fun, but there are other things to do too.
Finally I decided I had done enough posing.
I had places to go and things to see! Sometimes I wish she'd leave the camera inside… but then, I'd probably miss it.
* * *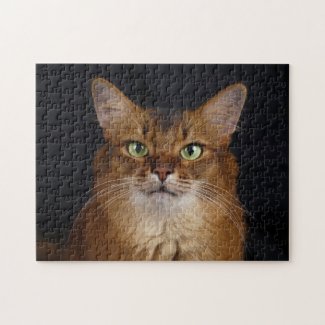 Somali Cat Photo Portrait Jigsaw Puzzle
See all of Summer's merch at her
her Zazzle Designercat Shop