Yep, there's a chill in the air, even here in southern California, which means it is sweater weather! My human was picking up some cat food when she saw this sweater and knit cap. She thought they would both be perfect for me. We will have at least one trip to a colder climate, so I am getting ready for winter. Of course I had to try these on to make sure they fit. Since it wasn't a full photo session but my human wanted to get pictures, we used the light in the master bathroom.
Ahem. It might be a good idea to have me pose so that the side without the price tag shows. Amateur.
Isn't this much better? Anyhow, you can see why this sweater, with its pink bows, suits me so well!
Excuse me while I strike a pose! I'm pretty good at this!
The hat wasn't quite as successful. It's a bit big on me… but it still fits and I will wear it.
Binga was hanging around, so she got to wear it too. I think she may need a modeling school if she wants to do more of this.
* * *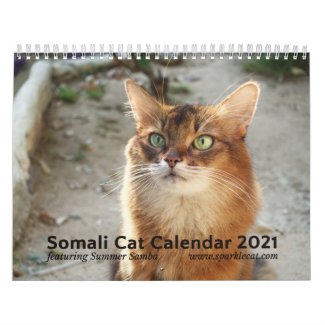 2021 Somali Cat Wall Calendar, Starring Summer
See all of Summer's merch at her
her Zazzle Designercat Shop