I'm trying to figure out what to wear for New Year's Eve! I'm hoping the humans are going somewhere so we can party here without them knowing about it! So I'm going to try some things on and you tell me what you think.
I am not so sure about this hat. It might be a little too busy.
There's nothing terribly wrong with this hat, but there's nothing really exciting about it either. Maybe Binga will want to wear it.
Okay, maybe not.
I've worn the other dress before at BlogPaws and for my 2016 calendar, so I was thinking maybe I should wear this dress instead. It's very pretty!
The only thing is I have a cute little New Year's Eve hat that goes with the other dress! What a dilemma!
What do you think I should wear?
* * *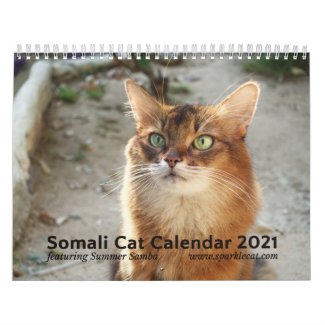 2021 Somali Cat Wall Calendar, Starring Summer
See all of Summer's merch at her
her Zazzle Designercat Shop