Although I have been sticking close to home the past few days, I still have been spending time out and about! My human took me around the side of the house for a little while the other day.
Here I am, asking when that wall is going to be finished.
There's not much out here at the moment, except for this rusted out decoration that I'm pointedly ignoring.
Besides there's something more interesting to see in the neighbor's yard!
They have an awesome Bird TV setup! Why don't we have something like this at my house?
Then the next day, there was all sorts of noise going on in the backyard.
I came out to inspect.
It was workers doing the annual brush clearance! It has to be done every year in time for the fire department to inspect our yard. These guys are nowhere near as much fun as Bird TV.
My human didn't get any photos of my biggest adventure — I got to watch a fire! It was at a house about three blocks from our home. The humans went down to see what was going on, and my human could see I really wanted to come, so she put me in the sling and brought me along. It was sad, a hundred year old Craftsman home that was being renovated was pretty much ruined. When the humans went back home, I got to walk on my leash for much of the way back. It was the longest walk I've had in the neighborhood!
* * *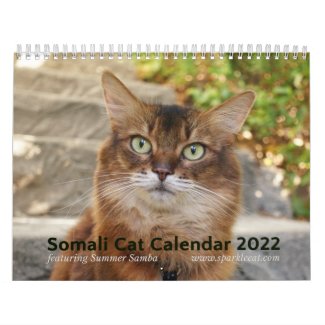 2022 Somali Cat Calendar Starring Summer Samba
See all of Summer's merch at her
her Zazzle Designercat Shop