I know that St. Patrick's Day is nearly a month off… and that's why my human brought home a bunch of green props from the party store for me to try out. It usually takes a couple of tries to figure out what is going to work in these photo sessions, so it's never too early to start! Like this shamrock choker, for example — that was definitely a No.
On the other hand, this big green bow was a Yes. It still needs some adjusting, though, because it is actually made for humans to wear.
It also looks good with this little hat. The hat (like my New Year's Eve hat) was actually attached to a hair clip that my human had to carefully remove, and then she added elastic to so I could wear it.
There was a noise outside that sounded like a critter and I got totally distracted! My human wanted me to stay for more photos but I wanted to see what the noise was.
After that, the photo shoot was kind of ruined. That's why my human does a practice session whenever possible, just in case I get bored or distracted before it's over.
Lastly, my human showed me this leprechaun pen she bought with all the other stuff. She thought it might be a fun cat toy.
It punches, and its eyes light up. I had no interest in whapping back.
I left the toy with Binga, but I didn't tell her what it does. Won't she be surprised!
* * *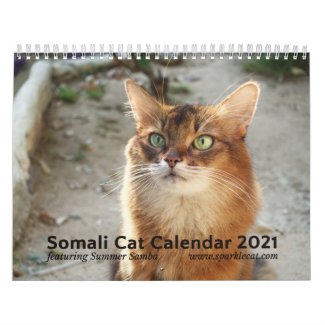 2021 Somali Cat Wall Calendar, Starring Summer
See all of Summer's merch at her
her Zazzle Designercat Shop