I've had such an exciting week! I got to do a two-day, four video shoot for Sleepypod. It was my first big job since the pandemic started. My human was all stressed out about packing everything the both of us would need and being away from home for… for hours! Keep in mind the location — the training expert's backyard — was about 15 minutes from our house. And everyone was masked up (except for the expert, when she was on camera), and following Covid protocols.
My human did give a lot of thought to keeping me comfortable. Because of protocols, we had to film outside, which is not my usual habitat. So she actually brought me to the location a few days ahead of time so I could get used to it. And on the filming days, she brought my old show enclosure so I had somewhere to relax between set ups.
I adjusted pretty quickly to the set. It helped that the whole focus was on me and my comfort, and that the cinematographer was a fan who follows me on Instagram! I knew the expert from being on therapy visits with her dog. Her dogs were in the house the whole time so I never even saw them. I did see some hummingbirds, and that was cool!
I had a couple of walking vest changes over the four videos. One of them involved learning how to walk on a leash, one was about traveling with your cat, and two were to show people how to teach their cats tricks.
The travel video involved a couple of different carriers. They showed how to encourage a cat to go in a carrier by throwing a treat inside. I actually didn't need the treat… but it was a nice perk!
And of course I had to work with the round Sleepypod carrier.
For one video, I had to show how to teach a cat to give a high five. That was totally easy! For the more advanced video, I helped the expert show how to teach a cat to go through a hoop. I actually didn't have to jump through it — I just walked through it. This didn't take a lot of effort on my part, since I already know how to jump through hoops.
The thing that impressed the expert and the cinematographer the most? They had a litter box for the travel video, and I immediately used it without any prompting! My human told them I was probably going to do that, and she was right. The thing that impressed me the most? The bounty of treats, including something I've never seen before called "Temptations." My human compares them to getting a fast food dessert — she usually only gives me healthy treats. They had those too, and some KFC, and I was pretty happy about all the fun tastes I got to have.
What a fun way to get back to work! I think my human and I both deserved high fives.
Note: Although Sleepypod sponsors this blog, this job was not part of our sponsorship and we are being compensated separately.
Other posts you'll enjoy:
* * *
---
---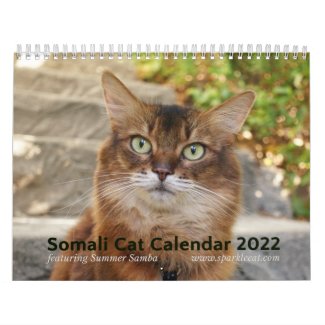 2022 Somali Cat Calendar Starring Summer Samba
See all of Summer's merch at her
her Zazzle Designercat Shop