I went back to the children's hospital for my second therapy cat visit there since pandemic restrictions eased. Slowly, things are getting back to normal. The humans are all still wearing masks, of course, and they take my human's temperature when she checks in. But this time, the log in notebook has returned, along with the badge that gets us in the exam rooms and other areas.
I got to work almost immediately, since there were a couple of children with their dads near the front desk. And right at the front of the waiting area was a girl whose face lit up as soon as she saw me. Crutches leaned up against the chair she was sitting in, and her hands were bent at an awkward angle. But that did not stop her from petting me and touching my soft fur. Not one bit. It was nice to spend quality time with her, and we lingered since the lobby was quiet.
Once we went to the exam area, my human and I found out why the lobby was so quiet — everyone was in the exam rooms! We were very busy there, going from room to room. I visited with lots of tween and teen aged girls. They were all very sweet and gentle with me, and their mothers asked lots of questions about me, my breed, and my therapy cat work. We also visited with lots of staff in the hallway, and a bunch of them took my photo!
On the way back through the waiting area and lobby, we visited with some more children, including a girl and a dad, who talked about their own cat. After that we went upstairs, but it was quiet. Only a couple of people were in the rehab waiting area, and they had finished with the patients in pre-op. The staff and patients who were still there enjoyed me a lot! One girl who had been operated on a while ago said, "I wish you had been here when I was operated on!" My human said, "Me too." We missed so much when we weren't able to visit.
Other posts you'll enjoy:
* * *
---
---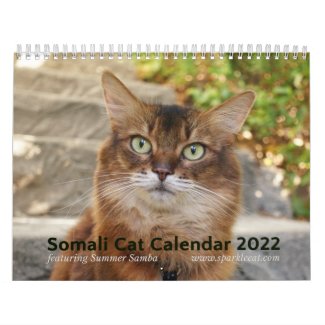 2022 Somali Cat Calendar Starring Summer Samba
See all of Summer's merch at her
her Zazzle Designercat Shop