I was supposed to model a dress my human got for me but I was being lazy. And who can blame me — she called me over for photos and then took forever doing things like sweeping treat crumbs off the backdrop. (Spoiler alert: she didn't get them all.) So of course, I was just going to lie around. Eventually she decided I needed to get lively.
So she pulled out a secret weapon… and it worked!
It got my attention all right.
In fact, it may have gotten a little too much attention from me!
My human wanted me to get lively and I did! Did you recognize the toy that got my attention?
It's the toy I picked out myself from the cat show I was at a few weeks ago! It is really coming in handy.
You'll get to see the dress tomorrow.
* * *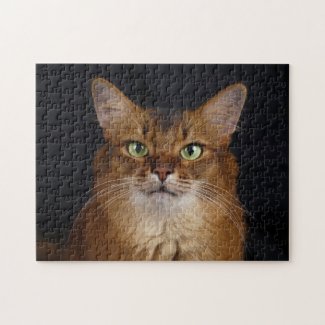 Somali Cat Photo Portrait Jigsaw Puzzle
See all of Summer's merch at her
her Zazzle Designercat Shop