Usually I spend the morning looking out the leaded glass doors to the back patio. Cats often refer to this type of activity as "Bird TV." Well, today was a particularly bad episode because the guest stars were a bunch of gardeners.
This wasn't the usual guy who comes every two weeks and putters around for a few hours. This was a whole crew of people clearing out all the brush around the house. According to my human, the fire department makes everyone in these hills do it every year. I suppose that is a good thing, since we live in a fire-prone area, but these people chased away all the birds! Can you see the heavy equipment behind me? I can't blame the birds for making themselves scarce.
And as if that wasn't bad enough, the dog spent most of the day inside. And she didn't even care that I was annoyed.
Sorry, but I do not watch dog TV. Could you please change the channel?
* * *
---
---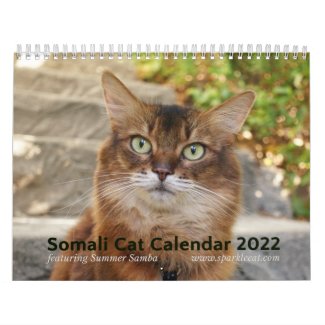 2022 Somali Cat Calendar Starring Summer Samba
See all of Summer's merch at her
her Zazzle Designercat Shop