Here I am in the should-be-catio, seeing how my homegrown nip is doing!
It is hanging in there. A little yellow on one end, but otherwise nice and green. It is spreading more than it is growing in height. I wonder if my human started pinching it back too soon. That would be typical of her. When it starts to bud in a few weeks, I wonder if she should remove the buds before they have a chance to flower, or let them grow. Does it make a difference in the nip's potency?
These are the sort of questions my human is clueless about. Her boyfriend is not any better. For some unknown reason, she gave him a couple of small plant seeds for Valentine's Day. These pots have been sitting out there for a few weeks now and so far, nothing is happening. My human may have killed the strawberry seedlings-to-be when he was out of town and she forgot to water them for a couple of days. That pot was awfully dry when she finally remembered.
It's just my luck that both of the humans here have black thumbs.
Before I go back inside, I am going to hang out in the dog house, just to make sure the dog knows I was here!
* * *
---
---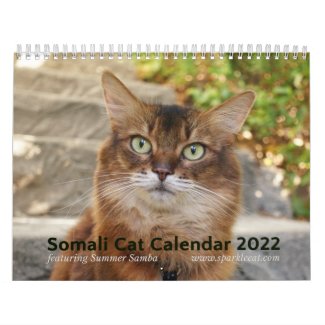 2022 Somali Cat Calendar Starring Summer Samba
See all of Summer's merch at her
her Zazzle Designercat Shop