I am very mad today! You won't believe what was going on in my very own catnip garden this week!
This cat was wantonly enjoying himself — all over my nip!
He knew he got caught, and he ran off right after this.
Of course, I had to go out an inspect my garden to make sure it was not too badly defiled.
I know you are probably thinking that since it is Christmas Eve and all that maybe I should be nicer and share my nip garden with other cats. But this guy had a collar on, and I'm sure his family can give him all the nip he wants! So why did he have to try and steal mine?
* * *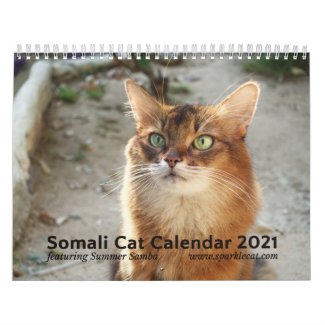 2021 Somali Cat Wall Calendar, Starring Summer
See all of Summer's merch at her
her Zazzle Designercat Shop