When I was out in the backyard garden the other day, I spent a lot of time watching birdies.
Of course, that was the exact moment my human suggested that it was a good time for a selfie. Seriously? I was kind of busy!
But you know how obliging I am (besides, it was the only way to get my human to stop bugging me). So I grabbed the iPhone and got ready to shoot.
This one is pretty good, but I think it is a touch out of focus. Let me see if I can do better.
I think the focus on this one is just a hair sharper! So can I go back to birdie watching now?
* * *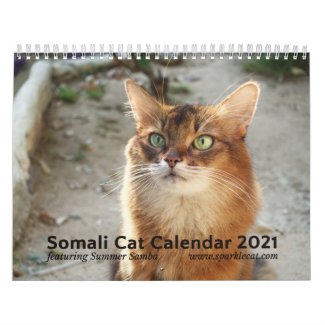 2021 Somali Cat Wall Calendar, Starring Summer
See all of Summer's merch at her
her Zazzle Designercat Shop